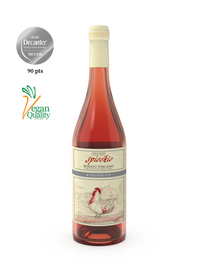 Reviews and Awards
Spicchio IGT Rosato Toscano 2019
Spring in a bottle
"... it strikes for its ample bouquet, tropical sensations are flanked by notes of violet, raspberry, rose, pear and pomegranate. The taste is confirmed by the olfactory complexity of great freshness and intensity; it is also crunchy and creamy at the same time. Very pleasant..."
Technical Notes
Grape variety: 50 % Ciliegiolo, 50 % Pinot Noir
Alcohol content: 13%
Quantity: 0,750 l
Harvest date: end of August
Bottling Date: January 2020
Placing on the market: February 2020
Longevity: 1-2 years
Harvesting: exclusively manual with the selection of grapes
Farm vineyards: located in the municipality of San Gimignano
Laying and texture of the soil: hilly at 200/250 m above sea level, medium-textured soil of Pliocene origin
Vinification and ageing: soft pressing of the whole grapes, cooling of the must and fermentation at the controlled temperature. Refinement on fine lees in thermo-conditioned stainless steel and vitrified cement tanks.

Wine and Vintage

"...the oenological choice to use in equal measure organic grapes of the company's production of Ciliegiolo and Pinot Noir allows us to combine the sweetness of the former with the particular aromaticity of the latter. The early harvest is partly due to the type of grape varieties used and partly to the desire to preserve the acid-base necessary to enhance the aromas and freshness of the wine..."
Pairings and Serving Notes
Spicchio 2019 is an ideal aperitif and it also accompanies first courses with vegetables, chicken curry with apples, side dishes of vegetables, cereals and legumes, truffle dishes, fried pumpkin flowers and hazelnut ice cream and endless ethnic and exotic dishes where you look for freshness and simplicity.
Ideal glass: tulip-shaped goblet
Serving temperature: 8-10°.
Label
Spicchio is the name of the wine and the cockerel on the label. Both stand out: the cockerel for its exuberant singing and the wine for its intense sensorial and gustatory identity. In the background is the old Tuscan farmhouse that recalls the tradition and authenticity of organic production.