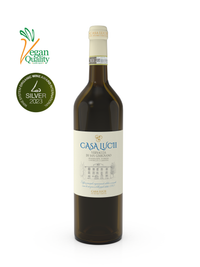 Casa Lucii DOCG Vernaccia di San Gimignano 2022
Fresh and floral. Perfect for every occasion
"... On the nose initially fruit and yellow flowers, peach and broom, then mineral notes and honey.... In the mouth an unexpected structure and roundness accompanied by a great freshness and flavor"
Technical Notes
Grape variety: Vernaccia di San Gimignano
Alcohol content: 12,5%
Quantity: 0,750 l
Harvest date: first decade of September
Bottling Date: February 2023
Placing on the market: February 2023
Longevity: 3 years
Harvesting: exclusively manual with the selection of grapes
Farm vineyards: located exclusively in the municipality of San Gimignano
Layer and texture of the soil: hilly at 200/300m above sea level, medium-textured soil of Pliocene origin
Vinification and ageing: soft pressing of whole grapes, cold decantation, fermentation of the must at a controlled temperature. Refinement on fine lees in thermo-conditioned stainless steel and vitrified cement tanks.
Wine and Vintage
"...as we do every year, in order to bring out the salient characteristics we tried to combine the aromas of grapes from some vineyards and the concentration of grapes from others. The fluctuating summer weather conditions turned into a splendid September that allowed us to harvest the grapes in their best form..."
Pairings and Serving Notes
Casa Lucii 2022 accompanies sea and land appetizers, saffron risottos, gnocchi, white meat dishes, fish, fresh cheese and many ethnic and exotic dishes where you look for freshness and simplicity. It's also perfect as an aperitif.
Ideal glass: tulip-shaped goblet
Serving temperature: 8-10°.
Label
The label represents the main building used in ancient times as a hospitable convent as mentioned on a papal bull dated 1260. Nowadays the building together with the other parts, the farmhouse, the barn and the cellar, constitutes the core of the farm and the family. Above, in the center, the wind symbol represents the strength of renewal. There is a red variant of this label for Chianti Fuscelli.