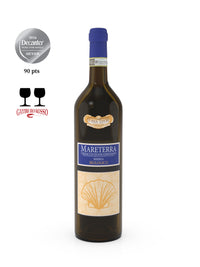 Reviews and Awards
Mareterra DOCG Vernaccia di San Gimignano Riserva 2013
Note: currently available only with the historical label
A white wine with a unique and exclusive character
"... immediately to the nose medicinal herbs, rosemary, thyme, laurel and tea tips, then caramel, chalk and marine sensations of aromatic herbs that populate the Mediterranean dunes. The taste confirms the olfactory complexity by giving great harmony and lightness..."
Technical Notes
Grape variety: Vernaccia di San Gimignano
Alcohol content: 12.50%
Quantity: 0,750 l
Harvest date: first ten days of September
Bottling date: February 2015
Placing on the market: February 2016
Longevity: 15-20 years
Harvesting: exclusively by hand in small boxes with the selection of grapes
Farm vineyards: vineyards located in the locality of Cellole
Layer and texture of the soil: hilly at 300-320 m above sea level, south-southwest, clayey, calcareous, rich in the skeleton.
Vinification and ageing: soft pressing of whole and cold grapes, final fermentation in small barrels for about ten months. Refinement in bottle for at least one year, release for consumption 3-5 years after production.
Wine and Vintage
"... the peculiar pedoclimatic conditions of the vineyards and the wise and measured use of wood allow creating a white wine with a very long breath and surprising personality. In particular, the seasonal trend with sweltering and dry summer has allowed us to harvest grapes intact and concentrated ..."
Pairings and Serving Notes
Mareterra 2013 accompanies elaborate fish dishes, shellfish and mature cheeses. It is also ideal as a meditation wine and on all occasions when you are looking for complexity and elegance. To share with friends and wine lovers!
Ideal glass: tulip goblet
Serving temperature: 10-12°.
Label
The historical label combines two salient characteristics of the wine that are also found in its name: the memory of the sea given by the marine soil rich in fossils of all shapes and sizes (MARE) and that of the land given by the yellow sands, called tuffs, which characterize the unique aromatic expression of this wine (TERRA).
The restyling of the label lightens the shapes and colors but maintains the characteristic elements unchanged. In essence, the duality between sea and land is found in the double expressive form of the shell, partly fossil and partly exalted by hot gold printing. Above the name of the wine is one of the nine company symbols that is inextricably linked to the organoleptic characteristics of this wine: the waves of the sea remind us of the geological origin of the land and the gentle Tuscan hills so well imprinted in the collective imagination.
Harvesting Vernaccia in San Gimignano