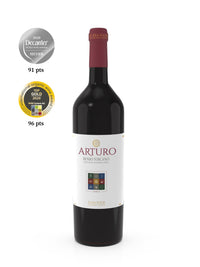 Reviews and Awards
Arturo IGT Rosso Toscano 2015
An unforgettable red for special occasions
"...to the nose full and enveloping with ample aromatic background; immediately red fruits of underbrush and crème de Cassis, floral notes of violet, green olive, saturnine peach, to close balsamic notes of mint and eucalyptus. On the palate it is full, enveloping with a dense silky tannic texture and a good acid-base with confirmation of the olfactory richness; on entering the mouth small red fruit that gives way to balsamic leaf sensations. A great Tuscan Red..."
Technical Notes
Grape variety: Sangiovese
Alcohol content: 14,00%
Quantity: 0,750 l
Harvest date: second decade of October
Bottling Date: February 2019
Placing on the market: February 2020
Longevity: 20-25 years
Harvesting: manual in small boxes with careful selection of the grapes and subsequent drying in the drying room
Farm vineyards: located in the municipalities of San Gimignano, Siena
Layer and texture of the soil: hilly at 300-320 m above sea level, clayey, calcareous, rich in skeleton.
Vinification and aging: destemming and fermentation on the skins for 15/20 days, maturation in barrels for at least 24 months in the historic cellar, bottle aging for at least on year, release for consumption 5-6 years.
Wine and Vintage
"...for the production of Arturo, the best Sangiovese grapes of the estate are harvested in boxes and partly dried in the drying room to enhance the durability and complexity of the wine. The wine then spends two years in the historic cellar to smooth out the youthfulness of the tannins and to enhance the best aromatic background of Sangiovese and our vineyards. Arturo has a very long evolutionary path that can continue for decades in the bottle and embodies the highest expression of the company's reds ..."
Pairings and Serving Notes
Arturo 2015 accompanies great occasions, lunches and ceremonies, chocolate desserts, dry pastries or merely a good book. It is ideal for those looking for an unforgettable, intense and thick red wine.
Ideal glass: large ballon goblet
Serving temperature: 18-20°.
Label
The historical label is made up of two squares surmounted by the company logo that recalls the tradition of the Tuscan flask. In the upper purple box stands the inscription Arturo, the lower box is in turn divided into nine parts with the symbols representing our work: the ear of wheat, the vine leaf, the chalice, water, sun, shell, wind, pi and moon. A white frame on which runs a golden thread surrounds the composition.
The restyling of the label lightens the shapes and colors while maintaining the original elements. The significant white background takes strength and four simple elements stand out on it: the rose window, a symbol of purity and complexity, the wine's proper name with its geographical qualification and the frame of the symbols compressed and defined by a red thread with an upside-down inscription in the style of Leonardo da Vinci. At the base, in gold, the name of our winery.