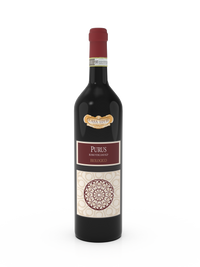 Reviews and Awards
Purus IGT Rosso Toscano 2014
Nature at the center
"...intense ruby red color with violet reflections, intense scents of flowers and berries, juniper, rosemary. In the mouth round, full, tasty. The grape juice that becomes wine..."
Technical Notes
Grape variety: Sangiovese
Alcohol content: 13%
Quantity: 0,750 l
Harvest date: third decade of October
Bottling Date: February 2015
Placing on the market: March 2015
Longevity: 10-15 years
Harvesting: exclusively manual with the selection of grapes
Farm vineyards: located in the municipality of San Gimignano, Siena
Layer and texture of the soil: hilly at about 200/250 m above sea level, medium-textured soil of Pliocene origin
Vinification and aging: Destemming, fermentation with light maceration on the skins. Purus is produced without the addition of sulphites and yeasts. The modest quantity of sulphites present, less than 15 mg/litre was produced exclusively by the fermentation process. Absence of filtration and other stabilization operations. Refinement in stainless steel tanks and vitrified cement.
Wine and Vintage
"... the production of wine without sulphites and added yeasts come from the desire to experiment and to guarantee the maximum exploitation of the grapes, which must be harvested perfectly healthy and at the optimal state of ripeness. The 2014 vintage was the first and luck, as the proverb says, helps the bold..."
Pairings and Serving Notes
PURUS 2014 accompanies pasta with meat sauce, vegetable flans, sausages and red meat. Ideal also for every occasion where you are looking for new sensory experiences.
Ideal glass: small ballon goblet
Serving temperature: 18-20°.
Serving notes: decant and wait 10 minutes before tasting
Label
The historical label is divided into two squares: the upper one with a brick red background shows the name of the wine and its indications. In contrast, the lower one has a stylized rose window in the middle symbol of light and purity in harmony with the wine production process. At the top of the label stands the logo of Casa Lucii that recalls the ancient tradition of Tuscan flasks.