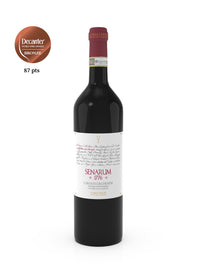 Reviews and Awards
Senarum 1776 DOCG Chianti Colli Senesi 2015
Sangiovese in its most elegant guise
"...with red fruit, blackberries, blackcurrants, black cherries and pomegranates. Hints of mint and Mediterranean maquis, on the finish notes of dark chocolate. The taste silky tannic texture that generates complexity and harmony with the acidity and fruit always present. An elegant and harmonious Sangiovese..."
Technical Notes
Grape variety: Sangiovese
Alcohol content: 13,50%
Quantity: 0,750 l
Harvest date: first ten days of October
Bottling Date: February 2018
Placing on the market: March 2018
Longevity: 10-15 years
Harvesting: manual with the selection of grapes
Farm vineyards: located in the municipality of San Gimignano
Layer and texture of the soil: hilly at about 200/250 m above sea level, medium-textured soil of Pliocene origin
Vinification and aging: destemming, fermentation with maceration on the skins in stainless steel tanks. Maturation in wooden barrels for at least 12 months in the historic cellar. Refinement in bottle for at least six months. Release for consumption 3-4 years after production
Wine and Vintage
"...the choice to produce our Senarum 1776 using only 100% Sangiovese grapes, to make a long maturation in wood and bottle for a release for consumption after 3-4 years allows us to reach an unmistakable style of the great Sangiovese of Tuscany..."
Pairings and Serving Notes
Senarum 1776 accompanies roasts, cold cuts, red meats and mature cheeses. Ideal for any occasion where you are looking for tradition and elegance!
Ideal glass: small ballon goblet
Serving temperature: 18-22°
Label
On the label there is an excerpt from the contract between an ancestor of our family and the hospital-military order of S. Stefano for the purchase of a small farm in the town of Certaldo dated September 11, 1776. The development of the land owned by the Pious Bodies, poorly used, was thanks to the Grand Duke Leopoldo of Tuscany who, with a series of government acts, facilitated their sale to the farmers. At the top is represented in molten gold one of the nine company symbols: the chalice, that represents the ancient oenological experience. The original name of our Chianti Colli Senesi Senarum is transformed into Senarum 1776 to celebrate the discovery of the document. Two eight-pointed red crosses flank the date in memory of the insignia of the military order.